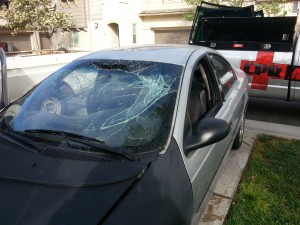 There are a number of reasons you could need a windshield replacement.
From rocks coming off of trucks to the heat and cold elements that often cause a small crack to become major problems, your windshield can get cracked quite easily.
You could also forget to properly latch your car hood.
This would cause the hood to fly up during what would be the most inopportune time which is while driving at highway speeds.
This often at minimum causes the windshield to get cracked or even shattered.
This experience can be quite scary as well as dangerous due to either glass injuries or even a highway accident due to a lack of vision.
These types of accidental issues have caused millions in damage and have even been known to take lives. At this point, needing a windshield replacement would be the luckiest of things that could happen in this scenario.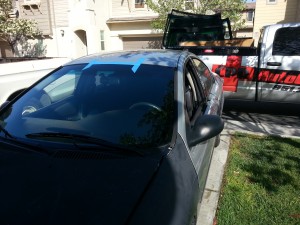 Should something like this happen to you and you need a windshield replacement, you can count on our mobile windshield replacement service to give your embarrassing and scary moment a little breath of fresh air.
We service a good portion of Riverside and San Diego counties and can often give you same day service if reported before noon.
Most windshield replacements take about an hour and you could easily be back on the road a few hours later.
Although not latching your hood properly can do quite a number on your windshield, it's an experience that usually only happens once in a person's lifetime as it is often not easily forgotten.
But if an event like this does happen, know that at least you are able to get your windshield replacement done easily and quickly. Always remember if you open your car hood for any reason, be sure that it is properly latched before resuming driving and not only save your windshield but possibly lives.